Quote:
Originally Posted by
avanti
It is not that these aren't important issues for many people, it is just that given where and how we travel, we have found that a Jetpack connected to an external MiMo antenna is vastly more useful to us than looking for free WiFi.
Fair point.
In my case, being able to leverage free wifi allows me to have a much cheaper/slower data plan. I have a $35 Verizon MVNO that I use for light duties. I queue up heavier tasks and run them when I treat myself to a beer or restaurant meal somewhere with wifi.
My setup
no wifi available
= verizon
smartphone
(nexus 6, used, $100) +
EasyTether app
($10) as my plan does not include hotspot. Started out doing usb tether but have changed to bluetooth. My data speed is less than the BT capabilities so BT isn't a chokepoint. And it allows me to move the phone around in the camper instead of having it physically connected to the laptop.
wifi available
= either
GL-iNet 300a mini router ($25) mounted in the cab. This is preferred as it can repeat the open wifi inside the camper and also repeat to nearby folks with more limited setups. Mounted inverted from the ceiling so it has a view through front and side glass but is relatively stealth. Apropos OP's original question, the first browser to hit the captive portal accepts the AUP. Since the router is relaying the traffic everyone behind it gets by on the original accepter's click.
Alfa usb wifi ($25) connected to laptop. Also mounted in the cab. This device is renowned for pentesting, but I use it because of its superior range (for its type) and deep peer knowledge base. I use a small panel ant with it when greater range is needed, otherwise an omni is less fuss.
I will eventually connect the Alfa to the mini-router for the best of both worlds (superior range + repeating). Have to do some reading first. It's linux under the hood so it'll just take some reading and play.
--
Afterthought: posting this from the Organ Mountains national monument. Tethered by bluetooth since there is no wifi (or humans!) around.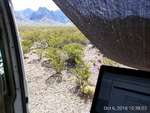 __________________